Project update June 2021
In spite of many unavoidable delays, we have made good progress on our Milestone 1 erosion control works. Works have been completed at six sites on three properties, Kooringle, Riverslea and Balloch, and they are already proving their worth in the current rainy conditions. Seeding and planting of the areas worked on is in progress. The project is proudly sponsored by the NSW Environmental Trust and south East Local Land Services.
Erosion control works on properties to address threatened species and sedimentation issues in Hovells Creek and the Lachlan River
In May 2021, we had an erosion control field day to showcase works done during our previous erosion control project, generously sponsored by Central Tablelands Local Land Services, and to talk about the current project, different methods and costs of erosion control and past works by HCLG members. The day was a great success and we look forward to the next one. The media release and talks given on the day can be accessed here: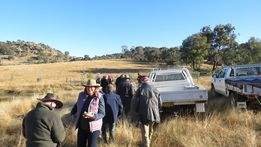 ---
In 2020, HCLG received $99,883 from the Environmental Trust Restoration and Rehabilitation Fund to do erosion control works on category 1 and 2 streams on eight properties. We were also granted complementary funding of $29,045 from South East Local Land Services (SELLS) to do planting and seeding to stabilise the works and the gullies and to fence them from stock.
This is a major collaborative project between HCLG, SELLS and NSW Soil Conservation Service project and will be done over two years. It is part of a long-term strategy by the group to address regional issues by doing works locally and we have applied for further grant funding to cover another nine properties over the next three years.  The regional issues are the existence of a 140km long sand slug in the Lachlan River between Cowra and Forbes that has been created by erosion from properties in the catchment and the consequent impacts of this additional sedimentation on water quality, threatened species and habitats. Locally, the project will address the issues of loss of soil and water from the properties.
NSW Soil Conservation Service will do the works and landholders will do the fencing, planting and seeding.